Wolfsberg Meeting
34th Meeting of the Swiss Immunology PhD students: August 15 - 17, 2022
The purpose of the meeting is to get to know colleagues in the same field, to present her/his own results, to get to know projects at other institutes, to initiate regular exchanges of ideas or even to start collaborations.
Organization
Registered attendees will upload abstracts which will outline the subjects and key-words that will finally form the structure of the meeting. Each participant of the meeting will present her/his Ph.D. project and the experimental results either in form of a poster or a 10 minute talk. One to two senior scientists per University (Basel, Bern, Geneva, Lausanne, Bellinzona, Zurich) will be present, mainly as chairmen and to participate in the discussions.
Location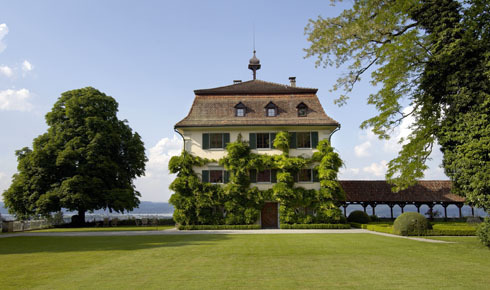 external pageSchloss Wolfsbergcall_made is a training center of UBS close to Ermatingen (TG) in a forest above the Untersee. It is a remote place in a beautiful environment and provides all the facilities for such a meeting: seminar rooms, accomodations, sport facilities.
Registration & Program
The Wolfsberg Meeting 2021 has already reached the maximum of 70 registered participants. Please send an email with your name and affiliation to to apply for the waiting list.

The program will be available for approved attendees at the registration website.
The provisional time schedule, which will depend upon the number of participants, is to arrive on Monday, August 15, after lunch and to start the seminar the same day in the afternoon. The meeting will close on Wednesday, August 17, lunch time.
The meeting will be sponsored by the Swiss Society for Allergologists and Immunologists (SGAI), FONDATION ACTERIA, UBS, the Universities of Bern, Geneva and Zurich, the USI/IRB and ETH, which will overtake the costs including meals and accommodation.
Zurich, January 2022
Prof. Annette Oxenius